Say Goodbye to Tech Roadblocks, Hello to Rapid Business Growth!
From IT infrastructure to cloud-based solutions and custom-built applications - We help your business grow with bespoke tech solutions tailored to your unique needs.
About us
At TulipTech, we offer comprehensive tech solutions that are designed to help businesses of all sizes achieve their goals and expand beyond their limits.
We understand the significance of technology in the modern business landscape. Therefore, our team of experts is committed to providing the best-in-class tech solutions to our clients.
We work closely with you to comprehend your unique business requirements and customize our services accordingly.
Whether you're a small business that needs to establish a robust IT infrastructure or a large enterprise that wants to migrate to the cloud, we have the expertise and experience to help you achieve your objectives.
So if you're looking for a reliable IT partner that can help your business grow, look no further.
"We drive enterprise success through transformative technologies. Our goal is to deploy technology combined with human imagination to help our clients become industry leaders. In times of disruptive change, we are a reliable partner to our clients and stakeholders worldwide."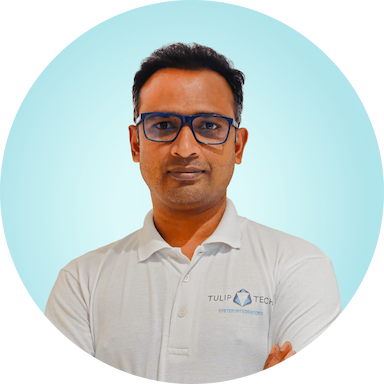 Masum Shamjad
Founder & CEO

LinkedIn
Core Capabilities
We bring you powerful advantages to navigate your digital transformation
Our Partners
Our strong ties with leading tech providers and service companies means we're committed to delivering exceptional tech solutions to our clients.
Our partnership with AWS gives us access to a broad range of cloud-based services, cutting-edge technology, and collaboration opportunities. Allowing us to offer more comprehensive and innovative solutions to clients. 
Case Studies
Take a sneak peek at how we create value for our clients and help them become the next industry leaders.
INSIGHTS
Stay informed and up-to-date on the latest technology trends, news, and best practices with our insightful blogs.
Our Clients
We're proud to have worked with some of the renowned companies form the UK and all over the world. Testimonials
Don't take our word for it
See what our clients have to say about our customized IT solutions and exceptional service.

We partnered with Tulip to build a new company intranet. We had an old Word Press site and several old SharePoint sites- quite a mess. The Tulip team helped us pull together a great site that hit all of our needs. They built custom content where we needed it and worked closely with our Team. Not only did they provide complete documentation on the site, but also held a training for our content creators. Tulip was a wonderful partner throughout the process.
Lisa Brink
Director of Marketing, Riekes Equipment
Stories of Extraordinary Results
We are delighted to share the wonderful feedback we received from Josh Pratt, the esteemed founder of Game In Frame. In a recent collaboration, Josh entrusted his hosting services to TulipTech, and we took immense pride in assisting him in crafting a brand new website. Our expertise also extended to seamlessly integrating and migrating his legacy JW Player backend to the new JW Player backend, enhancing his streaming services.

TulipTech has been recognized as the preferred hosting and integration partner for JW Player, reinforcing our commitment to cutting-edge solutions.

Let's hear directly from Josh about his experience partnering with TulipTech.